What we play/listen to/read while we work!
There are some cool things happening right now that I am not at liberty to say because that'd ruin surprises.  But while the Tiger Style team works on cool secret stuff, I wanted to catch y'all up on what we're enjoying these days. MUSIC! SXSW!!! First off, Austin, TX is the home of most of the team, and also the home of South By Southwest, an insane music festival held every...
New Book: Game Design Secrets!
Tiger Style's Randy Smith is interviewed extensively about the making of Spider and Waking Mars in this rad new book by Wagner James Au, a well-established game writer, scholar, and all-around smart dude.  The book covers the design and business of iOS, mobile, Facebook, and web games with lots of useful material like excerpted design docs, anecdotes, workflows, and copious interviews...
I WILL NOW INFORM YOU USEFULLY
ALERT! I HAVE DETECTED AN ERRONEOUS OBSERVANCE! DESPITE PERFUNCTORY AURAL ALIKENESSES, THE IMAGINARY ROBOT CL4P-TP CONTAINS LESS THAN ONE SIMILARITY TO EXEMPLARY COMPUTER HARDWARE OF MARS GOOD NEWS! I HAVE DETERMINED IT IS 72.539% LIKELY THE NATURAL LANGUAGE MODULE DEVELOPERS OF EXEMPLARY COMPUTER HARDWARE OF MARS ARE NONALERTED TO IMAGINARY CL4P-TP ROBOTS TO AN UNKNOWN CAPACITY!
Tiger Style's Big Big Weekend
In case you missed it, we had a majorly exciting re-release of Waking Mars this past Thursday and were stoked by all the attention it got over the weekend. For the past few months, we've been working hard to bring Waking Mars to a handful of new platforms - Windows PCs, Macs, Android devices, and even Linux systems.  We released them all on the same day and were.. well.. humbled to be...
1 tag
The Collective is Active
Tiger Style is a very active bunch.  While we're working hard to bring Waking Mars to your PC and Mac, the team also has its hands in a billion cool projects.   When we're not tearing up the Kansas City dance scene or prototyping one of several game concepts, here is what else has felt the claws of Tiger Style. Amanda Williams Alongside Damien and GL33k, Amanda did some art...
5 tags
Watch
Waking Mars is coming to Steaml!! … but only if you vote for us on Greenlight, here: http://bit.ly/S3b5iu. We need your help to land on a PC or Mac near you this fall!
Total Toadz! (by Phoolish Games) →
Hey everybody, Other Randy here again, to tell you about another cute little iPhone game I helped make! I teamed up with a friend to create this fun little flicking, brain-bending game.  It's all about high scores, and eating bugs, and quick math and pattern matching skills to get the highest score possible before you get overwhelmed. Check it out for $.99 on the app store, and I hope you...
15 Days of Waking Mars at $2.99
We recently shared our lifetime sales numbers here. The same day, we dropped price on all of our products.  Our strategy was to try and create news and attention by coordinating several newsworthy events simultaneously.  Our Waking Mars update had new jetpacks to collect and play with, and enhanced support for the iPad Retina Display.  We issued a press release and personally reached out to a...
The Environmental Art of Waking Mars →
Waking Mars' environmental polish artist Amanda Williams was recently interviewed by the fabulous Creators Project.  Be sure to see some original artwork and read her insights into the game and how such beautiful environments were developed.  Did we mention you can hire her?  She's available now, but hurry up and ask before she gets busy again.
Tiger Style's Lifetime Sales Numbers
Waking Mars has been on sale for 2 months, and we just released a big update, so it seems like a great opportunity to reflect on its progress in the App Store. While we're at it, we'll also show you the sales numbers for Spider and Spider HD — something we've wanted to do for a while now. I hope you find it interesting! WHY SHARE NUMBERS? We believe strongly in the...
3 tags
Waking Mars Update and Price Drop!!
It's May Day, and big things are going down!  Waking Mars is available for just $2.99, starting NOW.  It's a perfect moment to push it on any skeptical friends you couldn't convince before. Today also marks the release of the big May Day Update we've been slaving away at for weeks.  What's in this update?  New jetpacks!! For extra fun and increased maneuverability, the May Day Update features...
Dead End free for the weekend! →
In honor of wanting people to try out my personal project, Dead End, it's now free through Sunday, April 1st. Try it out on iPhone and iPod touch! Dead End is a 2- or 1-button zombie killing shmup with very little player control. It's exciting and you should totally check it out. Especially since it is free!
Design thoughts on Waking Mars by Daniel Cook →
We noticed this great blog post on the topic of Waking Mars yesterday (written by the designer of Triple Town), and it's sparked some pretty interesting discussion.  Glad to have discovered his blog as a result, lots of valuable stuff on there!
Waking Mars official trailer is live! →
Martian Life Might Thrive in Lava Tubes, Study... →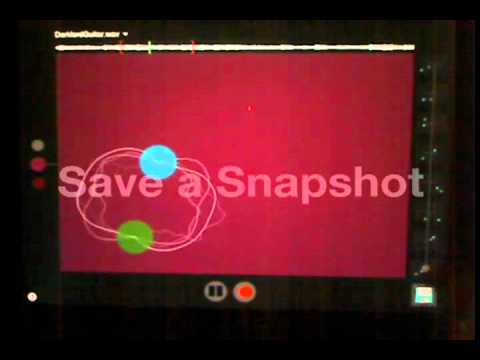 3 tags
Listen to music! →
Here's the latest podcast mix by Randy.
4 tags
We're going back to Mars (really) →
Curiosity, a descendent of Spirit and Opportunity, launches from Earth, headed for Mars, in just a few short days.  Read more at NASA's MSL page here! Based on everything I've learned about Mars while researching for our game, I would be thrilled but not shocked if this rover were to discover evidence of past life on the red planet. Good luck, Curiosity!
Building a Level for Waking Mars (A Detailed...
I'd like to show you a bit about what goes into building a level for Waking Mars.  (I just call it Mars with all the name changes.  We used to call it Descent.) [NOTE: I'm only showing portions of this level, not the full thing.] Each level begins with a place in the story/world.  Randy Smith has spent a long time building up a planetary story (he knows more than you can imagine...
3 tags
Naming the Game Part 2: Waking Mars
Odds are pretty small that you've noticed our first in-game Tweets, but if you have, you might have noticed the hashtag #wakingmars. Or perhaps you're one of the 53 independent game fans who navigated to Page 18 of the IGF's submission round-up (SERIOUSLY) and saw a game entitled Waking Mars that you hadn't exactly heard of but looked strangely familiar. I'm burying...
2 tags
Free to Play: Where is the soul?
I am having trouble getting excited about free-to-play games.   Oh, I see Tiny Tower, looming out there in the distance.  It's got that delightful, spirited art style, the appeal of an experience that promises ownership and authorship and creativity and novelty.  I get close to it and can't operate the fucking elevator, but so what, at least it's shiny!  And, my God, it...
Dead End (iPhone game) →
My new one-button, zombie-killing game, that I've been making on the side. Thanks to Tiger Style for giving me lots of feedback and coding help.  Now I guess I should get back to Lost Mars!
3 tags
Music To Fall Asleep To →
Please enjoy the soothing sounds of GeminiRadio podcast #5.
3 tags
Watch
We took some video capture of our latest game and put together a quick little gameplay video.  Let us know what you think!
2 tags
3 tags
Two Softbots Talking To Each Other →
Dear ART,     This is what your forebearers were like.  At least you talk a little better!  Hope you are enjoying summer camp.    Love,    Dad
3 tags
Spider Silk + Human Skin = Almost bulletproof →
"By implementing this bulletproof matrix of spider silk produced by transgenic goats in human skin I want to explore the social, political, ethical and cultural issues surrounding safety in a world with access to new biotechnologies."-Dutch artist Jalila Essaidi
3 tags
4 tags
Gamasutra blog post: Don't neglect game art. →
5 tags
Lost in the Lava Tubes
My latest column in Edge magazine, which you can visit here, began with an excerpt from this short story I wrote about our new game.  (With thanks to Edge who kindly permitted this re-publication!) —- Liang Qi, biologist, mineralogist, expert cave diver, and celebrated spokesperson of the Global Space Agency twisted his torso and wriggled downward through the tiny opening between two...
5 tags
1 tag
SCIENCE
Meteorites are apparently spamming the universe with the building blocks of life. http://www.sciencenews.org/view/generic/id/333171/title/Meteorites_contain_chemicals_linked_to_life
2 tags
Naming the Game - Part 1 (oh, the absurdity)
So… we're making a game that takes place on Mars.  For some reason, we haven't been able to satisfactorily assign the game a final name.  We've had over 5 extended brainstorm email threads over the past year, adopted and discarded 2 temporary names, did a friends-and-family Surveymonkey with dozens of participants, and just this week, generated an aggregate list that...
5 tags
2 tags
Mars may have salty water. →
Scientists have found new evidence for possible saltwater flows on Mars. The discovery was announced at a NASA news conference Thursday.
1 tag
NASA Rover Drives 20 Miles on Mars →
After seven years of stop-and-go driving, NASA's intrepid Mars rover Opportunity has covered just over 20 miles on the Red Planet You think traffic on Earth is bad!